Taking our health and body for granted is one of the most common mistakes that we all make. Something similar happened with 42-year-old Shiv Seth, who is a businessman by profession. His smoking and drinking habits, along with a really unhealthy lifestyle, put him in a situation, where the future started to appear really bleak. Scared for his life, he decided to turn his health around with the help of his family. From weighing a whopping 100 kilos to losing 28 kilos and getting back in shape, Shiv's story is an inspiration right to its very core.
Name:
Shiv Seth
Occupation: Businessman
Age: 42 years
Highest weight recorded: 100 kgs
Weight lost: 28 kgs
Duration it took me to lose weight: 12 months
The turning point: I was in such a terrible condition that I could not sleep at night as I could hear my heart throbbing loudly. I visited a doctor to get it checked, where he suggested several tests. My blood pressure, heartbeat and cholesterol levels were really high and I was also advised to lose weight. That was the point I decided that enough was enough and I really had to turn my life around.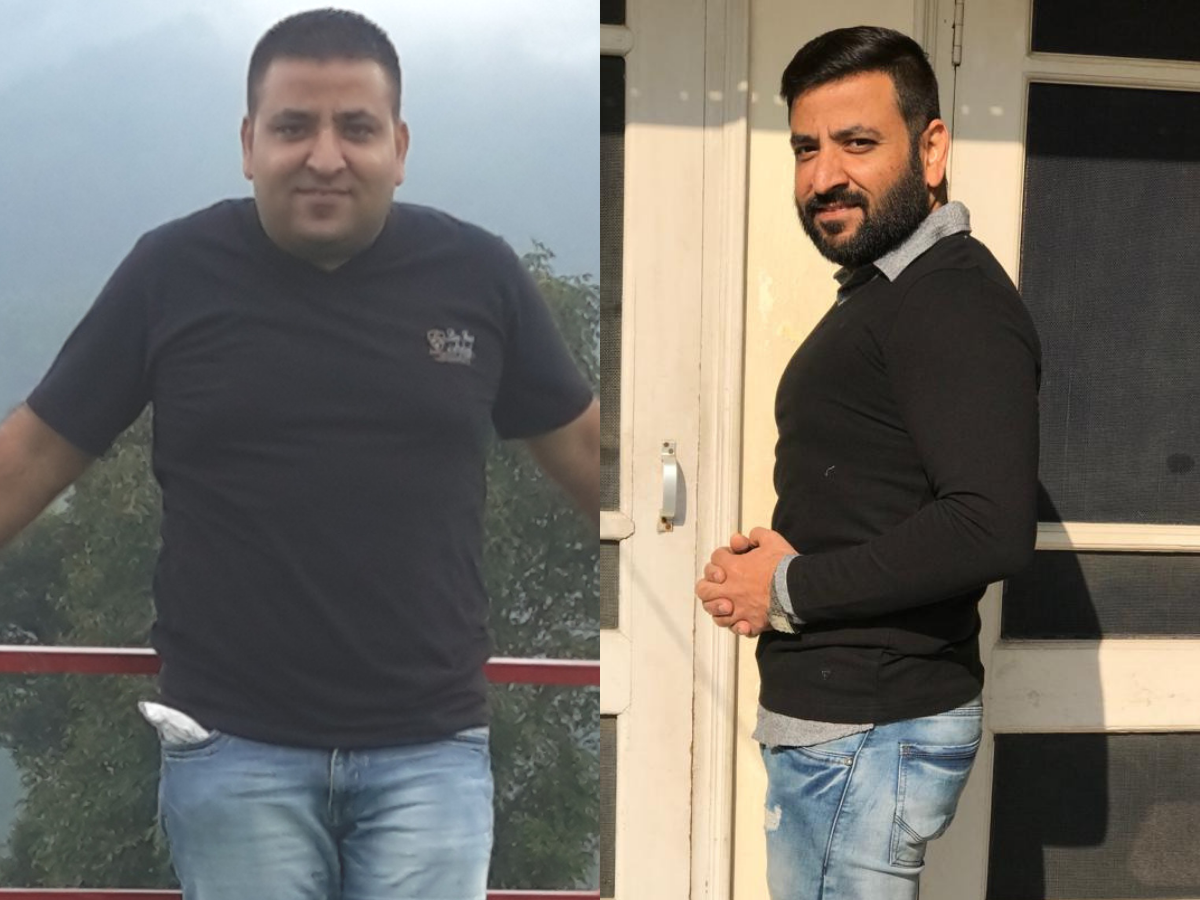 My breakfast:
6 egg whites, 1 scoop of Whey protein and a bowl of oats.
My lunch: 1 bowl of daal, 3 chapatis, some green vegetables and a small portion of rice.
My dinner: 6 egg whites and 1 bowl of daal.
I indulge in: I love gorging on aalu ka parantha, aalu tikki, pizza and all types of street food.
My workout: I workout for 6 days a week. It consists of 2 kilometres of running and 1 kilometre of jogging. I also do 90 minutes of heavy strength training.
Low-calorie recipes I swear by: I absolutely love egg whites and grilled chicken.
Fitness secrets I unveiled: I follow the mantra--Himmat se nahin, zidd se hoga (Weight loss does not require courage but sheer stubbornness). Changes do not happen overnight, hence you need to be patient. Secondly, you need to track your calories daily.
How do I stay motivated? I make sure I stay focused and always keep in mind my ultimate goal. Additionally, when I stand in front of the mirror and see results for myself, it is really motivating.
How do you ensure you don't lose focus? I make sure that I stay connected with people with similar fitness goals. I religiously click pictures, both, before and after my workout. Whenever I feel like I am losing track, I take a look at my old photographs, which remind me that I still have a long way to go. Ultimately, it boils down to your will power, which means I do not give in to the temptations and keep in mind the physique I want to achieve.
What's the most difficult part of being overweight? All the excess weight made me feel really sad and depressed. It was also heartbreaking when I saw people in good shape and muscular physique, while I, on the other hand, could not even get clothes in my size.
What shape do you see yourself 10 years down the line?
I want to be the best version of myself, both physically and mentally.
What are the lifestyle changes you made?
I turned my life 180 degrees. I stopped smoking and drastically reduced the consumption of alcohol. Moreover, I started working out which instilled new confidence in me.
What was the lowest point for you?
I started suffering from insomnia, hence, I kept tossing and turning in bed the whole night. Additionally, my heart used to beat really fast at night which terrified me.
If you too have a weight loss story to share, send it to us at [email protected]